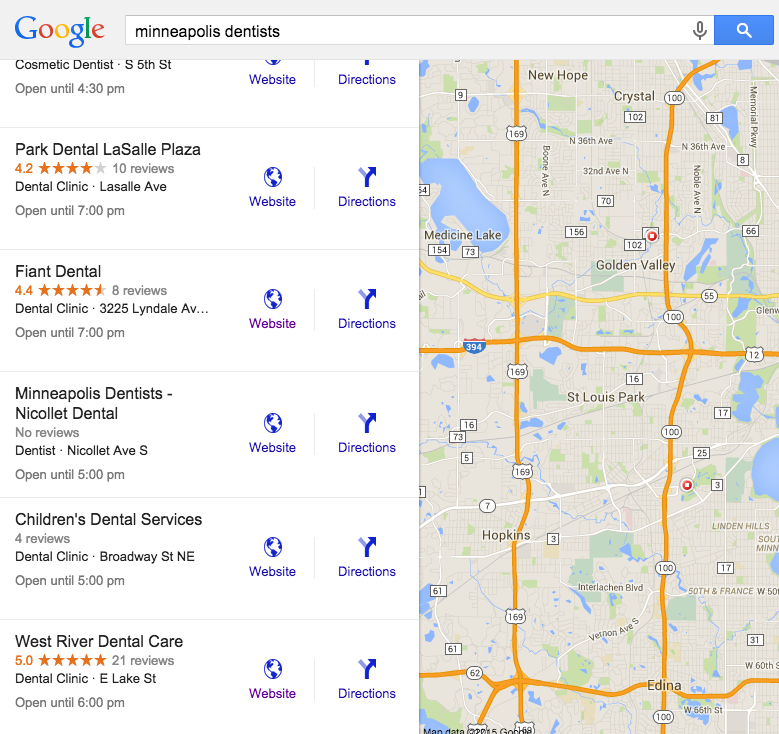 Let's go through a little example. You are attending a week long business conference  in Minneapolis for a business trip, when after you just landed you go back to your hotel eating something from the vending machine when you chip not just any tooth but your front tooth. You are in excruciating pain and don't know anyone in the town to give you a good recommendation for a dentist so you go to Google, and  will get the results shown on the left. Like most people. you will see the Park Dental LaSalle Plaza and go there because it is not just listed first but has a good rating, even though it does not have the best rating.
What can we take from that example, your local customers are doing the exact same thing when they need your business. Today more and more people are searching for local business.  Whether it is a traveler passing by, someone who just moved in, or maybe a long time resident who needs a new service provider will look on Google. If you are not at the top or have good reviews you are not going to get their business.
Mach 7 Marketing has been helping their clients become more visible to their customers and helping them increase their sales. We do this by taking the wholistic approach to marketing your local business. First, we start by creating needed local business and social profiles  on site such as Google my Business, Yelp, HomeAdvisor and others. Next ,we connect them to your website and help you get the needed reviews. On top of that ,we go through and analyze all of your online marketing efforts such as paid media, website content, social media and more making the needed improvements to help you get more customers, and retain those you have.
Learn how we can help your local business grow by feeling out the form below!